90,000 volunteers, one remarkable legacy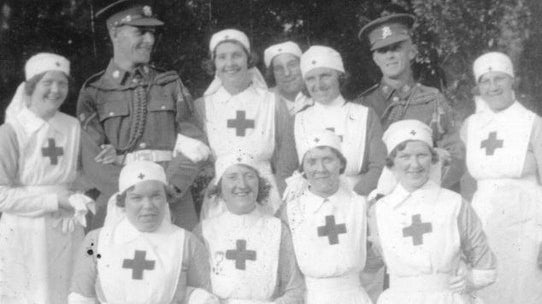 The origin of the Voluntary Aid Detachments (VADs)
Over 90,000 volunteers worked for the British Red Cross during the First World War. Known as 'Voluntary Aid Detachments (VADs)', they were of vital importance in providing humanitarian aid to naval and military forces during the war at home and abroad.
The VADs were formed in 1909 by the British Red Cross and the Order of St John at the request of the War Office. VAD volunteers were trained in medical practices and how to make use of local resources to improvise stretchers and other methods of transport.
Made up of women and men in every county in the UK, the VADs carried out a range of voluntary positions including nursing, transport duties, and the organisation of rest stations, working parties and hospitals. Some refused to take a salary, and many highly skilled volunteers willingly worked at a low rate of pay.
VADs were also trained to convert local buildings into shelters and rest stations for the sick and wounded. By October 1910, 202 detachments had been registered with over 6,000 volunteers.
Click on the links below to find out more about the volunteers' incredible contribution to the Red Cross and the lives of wounded servicemen.
More about volunteers during WW1